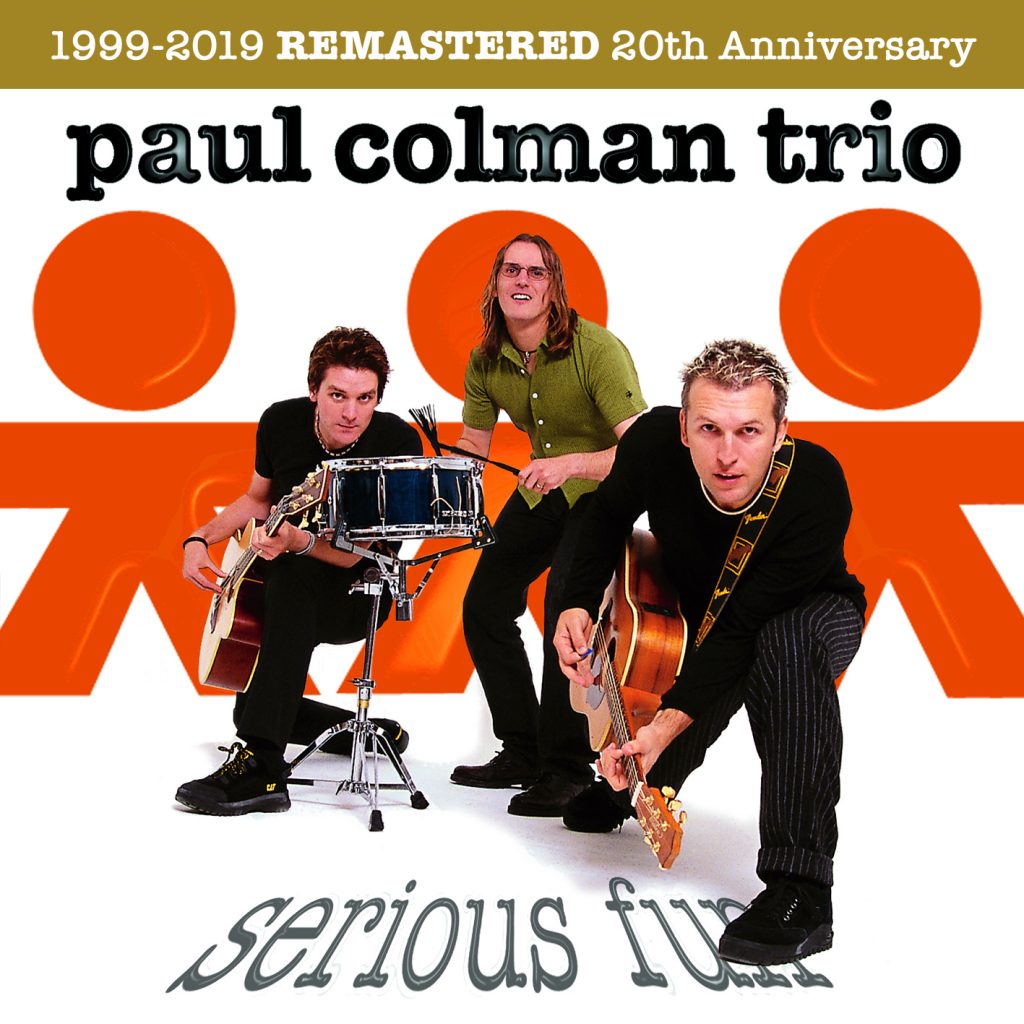 Thank you for purchasing the
Serious Fun 20th anniversary Remastered album!
We appreciate all the Serious Fans out there!
We created the digital album booklet in two different formats
and are making them both available for download.
To download the artwork,
click the download button below the image.
Foldout Booklet


PC3 Live "bootleg" Concert video
Access to this concert video is a bonus – especially for you – for purchasing your copy of the remastered "Serious Fun" from our website.
While we recognise that it'd be easy for you to share the YouTube link with others, we would ask that you please DON'T do that until we make it public some time down the road. Thanks!
(Use video player controls to view in full-screen mode)
Paul Colman Trio
Live "bootleg" Video
February 19th, 2004 @ Riverview, Perth, WA, Australia
FULL CONCERT (almost) with multi camera shoot and audio from the live mix console. No postproduction audio editing or remixing of any kind.
With special thanks to that evening's volunteer TV crew from Riverview Church for camera operation, live edit and for making this "bootlegged" copy without the band's knowledge or permission! (They eventually came clean and gave PC3 access to the footage 15 years later!)
This copy provided by Cameron Arms in November of 2019. Originally shot in analog to VHS quality in 4:3 aspect ratio. We believe this video edit was made live for the beside stage screens at the concert.
Apologies! There are some glitches and time sync issues that remain from the original video recording.
ONE TOUR OF AUSTRALIA (2004)
PC3 is
Paul Colman – lead vocals, acoustic & electric guitar
Phil Gaudion – drums & backing vocals
Grant Norsworthy – bass guitar & backing vocals
ADDITIONAL MUSICIANS
Jack Jones aka Irwin Thomas – electric guitar & backing vocals
Derek Bailey – keyboards & backing vocals
Scott Darlow – didgeridoo
CREW
Dave Jacques – audio engineer
Chris Shepherd – lighting engineer
TRACK LISTING
0m00s – Opening Credits with Intro Didge
0m57s – Save My Soul
4m32s – Selfish Song (glitchiness 4m53s to 5m02s)
9m10s – Your Sweet Voice
14m05s – Run (includes "My Sweet Lord" interlude 17m09s to 19m57s)
24m32s – I'll Be With You
31m19s – Turn
35m49s – Big Blue Planet
39m55s – (PC3's Grammy story)
46m53s – The Sun, the Stars & the Moon (includes "Amazing Grace" interlude from 50m49)
52m03s – Your Love is Everything To Me (previously unreleased, half baked song)
54m51s – All You Need (with special guest vocalist Bethany Fraser and an ill-conceived "Play That Funky Music" interlude from 57m53s to 58m51s)
1hr01m52s – Dear God (with a few early glitches and from 1hr05m21s to 1hr05m37s)
1hr08m22s – I Dream (glitches 1hr10m51s to 1hr11m09s & 1hr13m20s to 1hr13m27s)
1hr14m45s – Dip (featuring Scott Darlow on didgeridoo)
1hr23m25s – The Killing Tree
1hr35m47s – Fill My Cup
1hr40m55s – (crowd)
1hr42m21s – Solution
1hr46m52s – Into Your Arms – Paul speaks (Skip 1hr24m40s)
1hr55m33s – Into Your Arms (glitchiness 1hr55m55s to 1hr56m00s & 2hr00m24s & 2hr02m24s)
2hr06m58s – Closing Credits